Californian-based artist James Turrell and the National Gallery of Australia (NGA) have a working partnership that has spanned almost five years, starting with his exhibition Within without which opened at the NGA in 2010 and is now a permanent fixture.
His latest exhibition at the NGA, A Retrospective, is a collection of over 50 years of work including Projection pieces, holograms, prints, drawings and photographs. It explores light as a tangible entity and challenges our perception and understanding of the role it plays in our lives.
James Turrell: A Retrospective exhibition footage courtesy of the National Gallery of Australia
James Turrell isn't a stereotypical artist – Google his name and you'll be confronted by a bearded cowboy against a stark and rugged American desert. He studied perceptual psychology and mathematics and is a trained pilot. All of this knowledge and experience is the driving force behind his interest in light and how it can be manipulated to evoke feelings and sensations.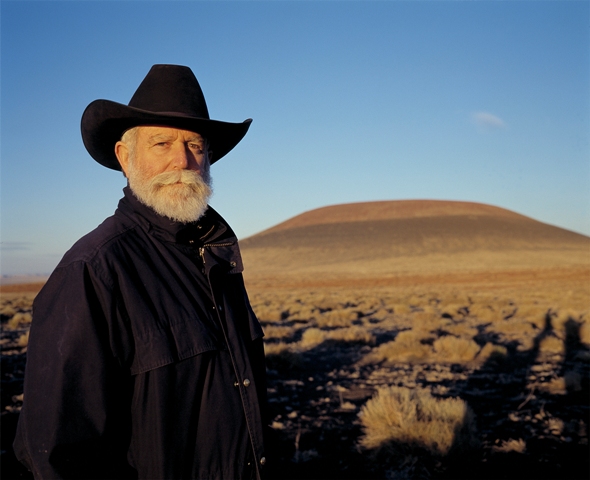 Turrell's earlier artworks encourage us to think about how we define reality from our perception of light – from the colours, our reactions to the light we see and even our sense of place in this world. One of his most well-known creations is his Skyspaces; he has created over 80 Skyspaces around the world, with one at the NGA.
Skyspaces are chambers with an opening in the ceiling allowing you to look up at the sky, similar to an occulus, which is a fair comparison as Turrell wants you to be awed by the light above and inspire thoughts of religion, the universe and how we construct our reality based on how we perceive the light and its relevance to the individual.
Following his work with Skyspaces, Turrell's later works focused on using light to create sensory experiences. Think of being in a maze with the light marking the end and how you feel walking through the maze trying to get to the light.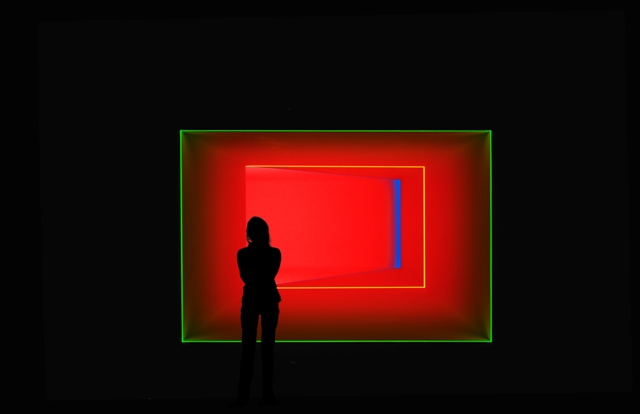 A great example of how he uses light and darkness to manipulate your senses, including those sensations of fear and not knowing what lies ahead, is his installation 'After Green' (1993) (pictured above), part of the Wedgewood series. Standing in a dark room all you can see is light with differing depths created with fluorescent, LED and fibre optic light. There's no beginning, and no end, giving you a unique outer-body experience – some would say akin to religious ecstasy.
Not all of Turrell's artwork is static; his Bindu Shards (2010) (pictured below), part of the Perpetual Cells series, transports you – literally – into a universe of light. This is interactive and immersive artwork in its most sophisticated form. You are required to enter a machine which is like a MRI, except you are completely enveloped in light. Once inside, a set of lights will 'play' ranging from kaleidoscope crystals, shards of light and stars. The purpose of Bindu Shards is to question how important a role light plays in our reaction to situations, especially our reaction to how light is presented to us.
Turrell's largest series to date is Ganzfeld (below), which is German for 'all field' and places you in a a room filled with light so that you lose all sense of depth perception. It has a very space-odyssey feel about it and does make you feel like you are in outer-space, or a different dimension in the universe.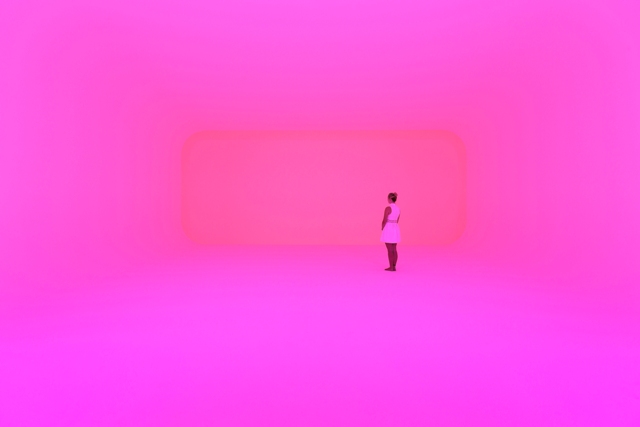 For a contemporary art exhibition that is literally out-of-this-world, James Turrell: a retrospective won't disappoint and all the works mentioned above are included. It is showing at the National Gallery of Australia until 8 June 2015.
Tickets start at $25.49 for adults, $20.39 for members and students and premium tickets are $45.88 (includes entry for Perpetual Cells which will take approximately 15 minutes).
If you can't make it to Canberra, check out the NGA website (http://nga.gov.au/JamesTurrell/) for details on the exhibition and visit Turrell's site at www.jamesturrell.com for more information on the artist and his works around the world.