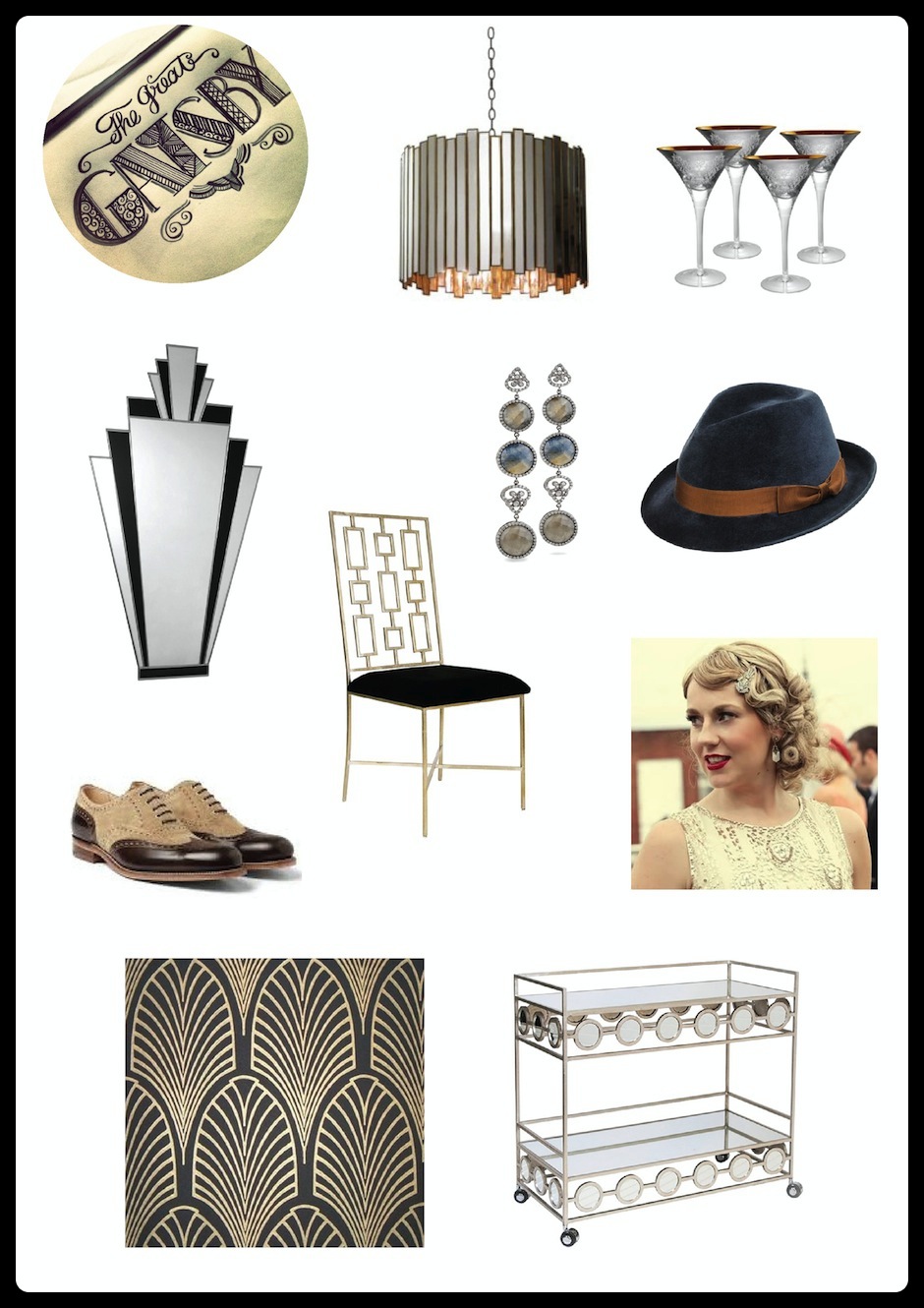 Spring Racing Carnival is a great time to party. Beautiful food, beautiful wine, beautiful decor and, of course, beautiful dresses! One era in particular that has captured our attention recently is the 1920's where partying was a full time job.
This era, of course, was the setting for F. Scott Fitzgerald's famous novel The Great Gatsby, which has been captured on film most recently by Australia's own Baz Luhrmann. The film is packed to the hilt with glamour, faithfully recreating the excessive wealth and lavish lifestyles of the young, beautiful protagonists through stunning costumes and extrvagont interiors.
What better theme, then, for a Spring Racing party? It can be an easy and fun way to put together an event like this at home with a mix of inexpensive party accessories. You can make an impact on a budget by incorporating a mix of creative styling ideas that will wow your guests.  Gold, black and white beaded tinsel and crepe paper runners, for example, will make a perfect table centre piece. Why not even create your own 'crystal chandeliers' like the ones at Gatsby's house out of a few crafty pieces sourced from your local op shops and variety stores.
The colour block and monochrome theme with shots of metallics, carry through to window dressings and door frames with carefully selected lengths of fabric and trim, easy to find at local fabric stores or craft shops. Vintage inspired costumes and hairstyles will be the main talking point at your party, after all everyone loves a good dress up! Try a vintage dress from an op shop, eBay or etsy store for the beaded or fringed 'flapper' look.
Splash out on a special hat or fascinator or even make your own! With a little effort, you can create a beautiful party on a budget that will have your guests feeling like they've been invited to one of the Jay Gatsby's elaborate soirees.
Here are some of my shopping spots to help you find some inspiring ideas for your Gatsby theme party:
North Siders:
Check out Tiny Dancer on Sydney Road for a younger, edgier look.
Circa Vintage Clothing in Fitzroy is where you will get lost for frocks!
Lost and Found Market in Collingwood has some great vintage bargains for your homeware props.
South Siders:
Villa Maison for French-inspired home wares and bejewelled accessories.
Shag on Chapel Street, Prahran for your hair and clothing accessories straight from the 20's era
Chapel street bazaar another chapel street special and be prepared to loose a lot time in here, you will be amazed by the treasures you will find. Enjoy the spring party season!
West Side:
Bam Bam Vintage Costume Hire If you can't find anything second hand, hire a vintage costume instead from this great little shop in Williamstown.
Lost Ark Antiques & Collectables A great warehouse full of treasures, You won't come out empty handed here!
Country: 
Long Gone & Back Based in Shepparton, this is shop specialises in vintage clothing and collectables
Mill Markets Ballarat, Daylesford and Geelong have all lucky enough to have the Mill markets at their fingertips. You can find everything you need  here, it's a one stop shop for vintage and recycled goodies.