Are any of you familiar with the members only shopping website Temple & Webster? In a nutshell it's a really good online shopping forum where you get lured into the world of homewares and furniture sales at the click of a button! Let me tell you it's addictive but also a great way to find affordable and interesting things for your home.
Not only is it a great shopping experience it also features an interesting blog keeping you up to date with new talent and inspiring interviews from people in the design industry. One post that has come to my attention is the Emerging Designer Awards for 2014. Temple and Webster have sponsored 10 of the best newcomers and are showcasing their work on the blog with the intention of readers voting for their faves. I thought it would be good idea to spread the word and see if any of my readers would like to vote too (if you haven't already of course)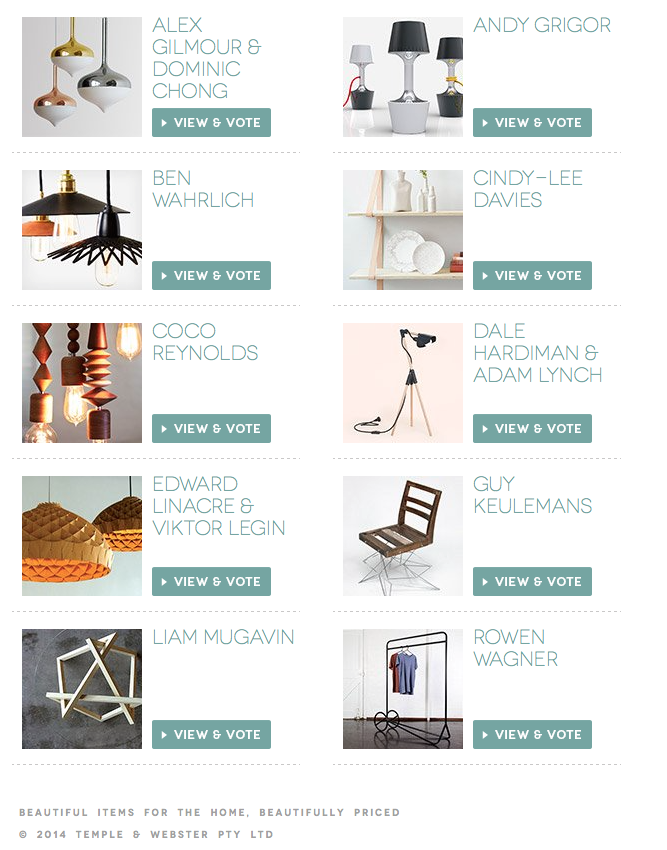 Here's a little snippet of the designers and their amazing products. You can vote by clicking on the link here http://bit.ly/1o8hg3z
Karen McCartney the Editor of Temple and Webster has also showcased her own edit of the emerging designers on Instagram. Check out her post here to read about the journey of this great idea and how you can follow the action. http://bit.ly/1g9jyba
My vote by the way is for Coco Reynolds, I can't get enough of her lighting! Good luck to all the designers they all deserve to do so well. I would be keen to hear who you vote for so let me know.